RuleDesigner PDM
The Heart of Your Product Lifecycle Management
RuleDesigner PDM is a key component of the Product Lifecycle Management (PLM) offering that enables the efficient management of MultiCAD technical data and Product Data throughout the company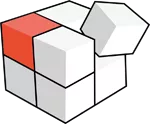 INTEGRATION WITH 2D/3D CAD SYSTEMS
RuleDesigner PDM fully supports the most popular 2D and 3D CAD platforms
Aggiornamento proprietà file
Aggiornamento automatico cartigli
Rinomina automatica file CAD
Aggiornamento collegamenti file CAD
Integrations with updates based on CAD releases
Integrations with legacy cad systems
Integration with GBG DraftMaker
Is your CAD system integration not mentioned?
Don't worry. CAD system integrations are RuleDesigner strenghts! In fact, our solution stands out for the number of standard integrations already available today. Contact us to know if the integration to your system is already available and how RuleDesigner can be applied to your technical department!
Main ERP with which our PDM projects have been integrated
SCHEDULE A VISIT
Submit your request to schedule a visit with our experts to understand better how RuleDesigner can meet your business needs.
REQUEST
REQUEST CUSTOM DEMO
If you want to understand how RuleDesigner meets your business and industry needs, ask for a custom demonstration.
CONTACT US
SIGN UP TO OUR WEBINAR
RuleDesigner staff will illustrate and show live different application examples of the solutions you are more interested in.
SIGN UP
Let's set your goals together
"Corporate culture is being stressed by new paradigms that allow surprising results to be achieved in terms of design quality, costs and people involvement. The role of the integration technology between the various platforms and RuleDesigner proved to be the only solution that could guarantee the management of the company's enormous historical heritage, guaranteeing a modernization in the flows and methodologies of each individual role"

Gabriele Caccin

Technical Information Systems Manager
"The introduction of the No-Code approach has made it possible to activate simpler and more flexible management of the configurator. For me it was a real revolution because I went from having to depend on the supplier for any changes to implementing and testing the changes myself."

Giovanni Ostacchini

Technical Sales Manager - Koenig & Bauer
"A Lean corporate management philosophy combined with the implementation of RuleDesigner®, as the company's reference information system, has allowed us to obtain complete, real-time visibility of the order status, converging towards a customer-oriented vision at the lowest cost"

Operation Manager - Modulblok spa

Andrea Peressi