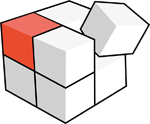 OVERVIEW
Protect and develop the technical know-how across the entire product life-cycle.
Comprehensive and cross-functional information collected in one-single web portal.
RuleDesigner PDM & PLM is a web-based integrated solution whose scope is to improve the efficiency and effectiveness of both the organization and innovation and development activities across the entire product lifecycle. RuleDesigner activates a close collaboration among global design teams for the joint development of business projects. It ensures a complete control of the product development process with information that flows seamlessly.
FEATURES
What does make RuleDesigner different
Rapid deployment and high configuration flexibility.
RuleDesigner is the only PDM that ensures immediate effective operation without interruptions and without compromises. Thanks to "Start& Go" functions you get a comprehensive data management that protect, classify and immediately work on your product data history, even in a multi-CAD environment.
Easy integration to ERP and other existing business applications.
RuleDesigner is able to interact and interoperate with business applications on the web for a full continuity in information flows. Thanks to the ability to federate applications, it offers you additional methods, compared to those of traditional pdm, for the management of information residing on external systems of any kind.
100% Scalable to Enterprise PLM Management
RuleDesigner activates a global and integrated management of workflows belonging to the PLM and CRM domain. You can extend the field of application gradually, without any further installation.
Number & Quality of CAD Integrations
RuleDesigner has always stood out for the quality and number of CAD integrations offered, giving users the freedom to migrate from one CAD to another without affecting consolidated PDM/PLM processes.
+ Extend the PDM toward a more
comprehensive PLM management
MAIN CAPABILITIES
Learn more on RuleDesigner capabilities in this area
Drawings archive
RuleDesigner provides a system for managing and storing all documents related to the product, with the possibility to apply configurable approval workflows.
2D/3D CAD Integrations
RuleDesigner fully supports the most popular 2D and 3D CAD platforms, including SolidWorks, Inventor, SolidEdge, Nx, Creo, ProE, Catia, ThinkDesig, AutoCAD, Cadra, GBG, Me10 and others.
Product configurations management
Each product has an information panel that integrates multimedia contents, information on the structure of components, documents, PDM part-numbers, contracts and  warranties, offers and orders, customers, tickets, reports and projects.
Integrated document manager
All the project documentation, including technical files, can be managed and consulted directly from the project panel and submitted to permissions and approval workflows.
ERP Integrations
The technical data stored in the PDM and in the external ERP/MRP system can be synchronized bi-directionally.
Advanced BOM management
RuleDesigner allows to create and manipulate bill of materials (BOM) – in different formats and views- retrieving them from CAD systems or other external sources.
SCHEDULE A VISIT
Submit your request to schedule a visit with our experts to understand better how RuleDesigner can meet your business needs.
REQUEST
REQUEST CUSTOM DEMO
If you want to understand how RuleDesigner meets your business and industry needs, ask for a custom demonstration.
CONTACT US
SIGN UP TO OUR WEBINAR
RuleDesigner staff will illustrate and show live different application examples of the solutions you are more interested in.
SIGN UP