Keep your know-how safe with RuleDesigner
PRODUCT LIFECYCLE AREA
What is a "Product"? An integrated, complex and smart system.
In a scenario where operations are no longer sufficient to maintain competitive advantage, the focus shifts to the comprehensive and optimal management of the product life-cycle.
A re-focus that places relevance at all the phases, from design to post-sales, which are characterized by a high rate of knowledge, which is the company's real distinctive value.
In the Engineering and Manufacturing industry, such a shift implies a growth in  skills and responsibilities of the technical area to be able to range from the multidisciplinary design of integrated systems to, on the one hand , the collaborative design with partner and customers and, on the other hand, to resources and projects planning and coordination.
TRENDS THAT AFFECT ENGINEERING MANAGEMENT
Which business strategies does RuleDesigner support?
Virtual reality in mechanical engineering
Your customers at the center of PLM processes and product development.
From mass production to mass customization
The customer is at the center of PLM processes and product development.
From "physical" to "smart" products
RuleDesigner, the best solution to handle such a change.
Smart Product Development
Building and maintaining synergy among complementary technological resources, such as mechanics, electronics, information technology and IOT.
Collaboration at enterprise-level
Create and coordinate solid inter-functional and extra-corporate relationships to support a global vision.
ENABLING TECHNOLOGY
RuleDesigner improves your innovation and design processes.
RuleDesigner is a collaborative PLM solution that fully meets the needs of technical and engineering departments for what concerns product asset management, activities coordination and collaboration with business functions, providers and customers.
RuleDesigner is a solution that supports the technical team in carrying out all the activities that take place during the design process: from the collection and definition of the product requirements, classification of data, change management, BOMs and product structure to, the production of technical documents and information needed along the PLM process.
BROCHURE
ENABLING MODULES
RuleDesigner is an enterprise platform made up of integrated modules that can be combined or implemented individually.
Learn more on modules that meet the requirements of the technical area.
SOLUTIONS
One single integrated solution adaptable to various application scenarios and providing benefits to multiple business processes.
Product lifecycle management
RuleDesigner supports the PLM business approach improving the efficiency and effectiveness of innovation and development activities distributed throughout the entire product lifecycle. Also, it simplifies information and documents gathering along the different stages of product life-cycle by enabling team collaboration across the extended company.
Details
Support to Multidisciplinary Product Development.
RuleDesigner is provided with tools for managing mechatronic technical design data, useful for several job orders. It eliminates communication barriers on processes and data concerning mechanic, electronic and software engineering within the company as well as in the supply chain.
Details
Support to the global product development.
RuleDesigner Supports the creation and maintenance of a global product development process where the design teams work collaboratively in the PLM domain, participating from different geographical areas.
Details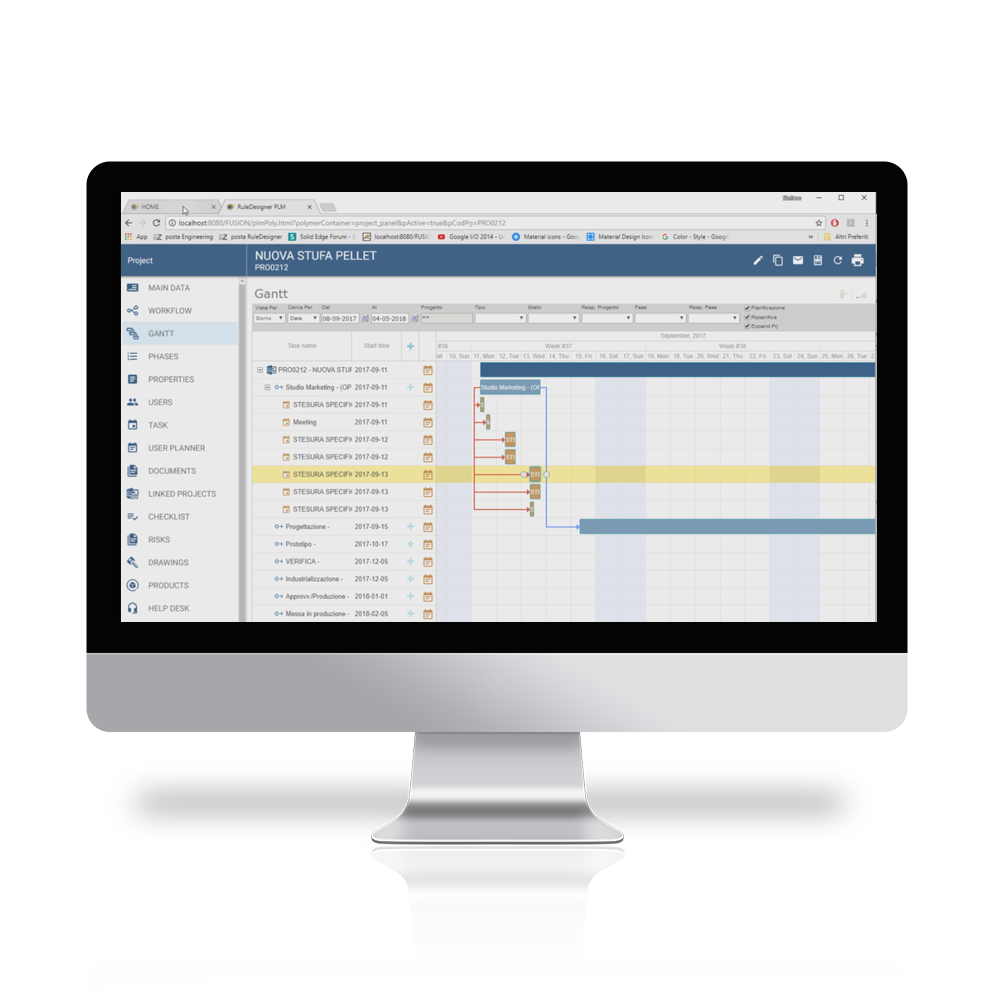 Lean product development & engineering
RuleDesigner endorses an integrated approach that allows to adopt a global vision throughout the entire product lifecycle. It supports the management of product and process information as well as information sharing to achieve a lean product development.
Cross-functional Collaboration
RuleDesigner contributes to foster collaboration among corporate functions. For instance, Marketing and Sales departments can benefit from RuleDesigner to create new feasibility analysis and/or cost estimations for new products or for reviewing the existing ones. By the way, any useful information obtained from these activities affecting production and /or service is shared in real time.
Details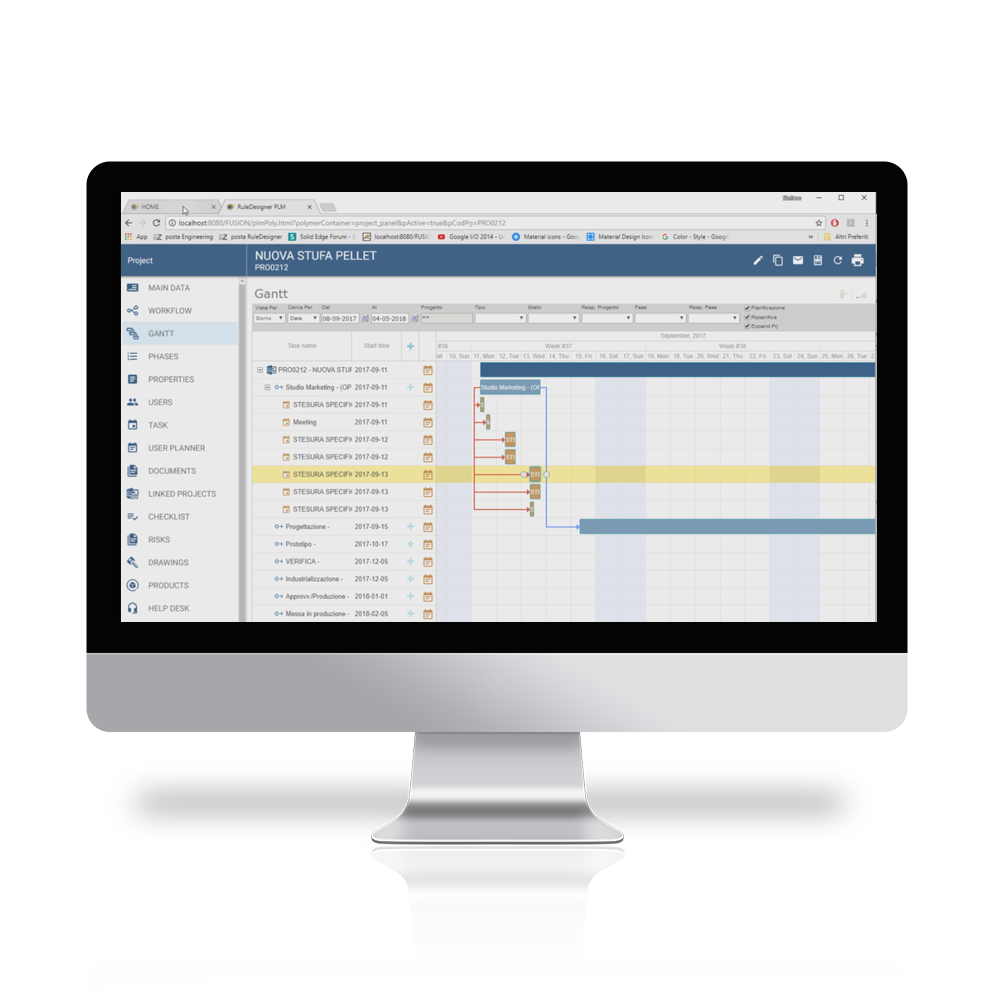 Job order management
Within the project management domain, the differentiating features of RuleDesigner are flexibility and cross-functionality. These features make it the perfect solution to approach, map, support and track projects related to multiple business contexts.
Details
Time and cost traceability by project teams.
RuleDesigner offers tools for coordinating product development activities (concept, design, development of prototypes, definition of the BOM) within multifunctional project and design teams.
Details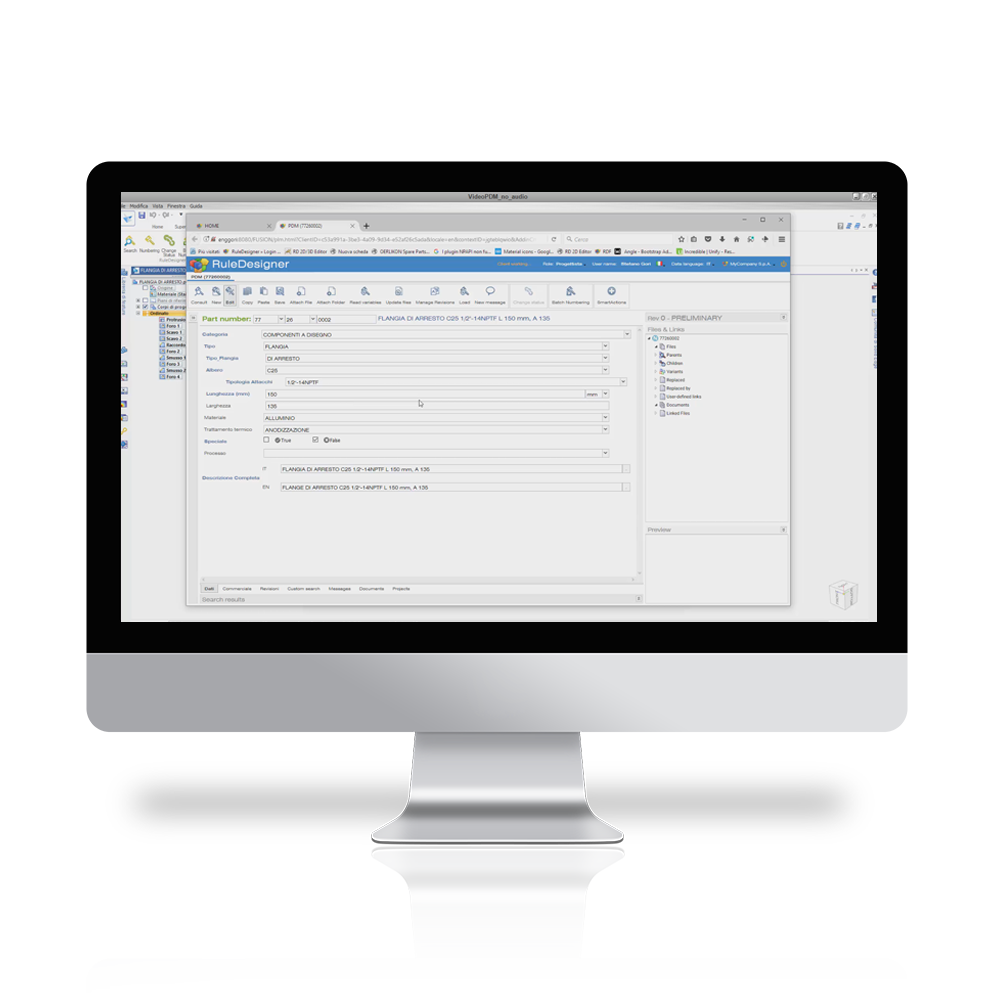 Cross-functional BOM management
BOMs can be used for multiple purposes to meet different requirements in terms of composition and output format.
Product configuration management
RuleDesigner allows organizations to manage the exact product configuration sold to a customer: in other words, the list of adaptations, technical interventions and accessories added to the standard product.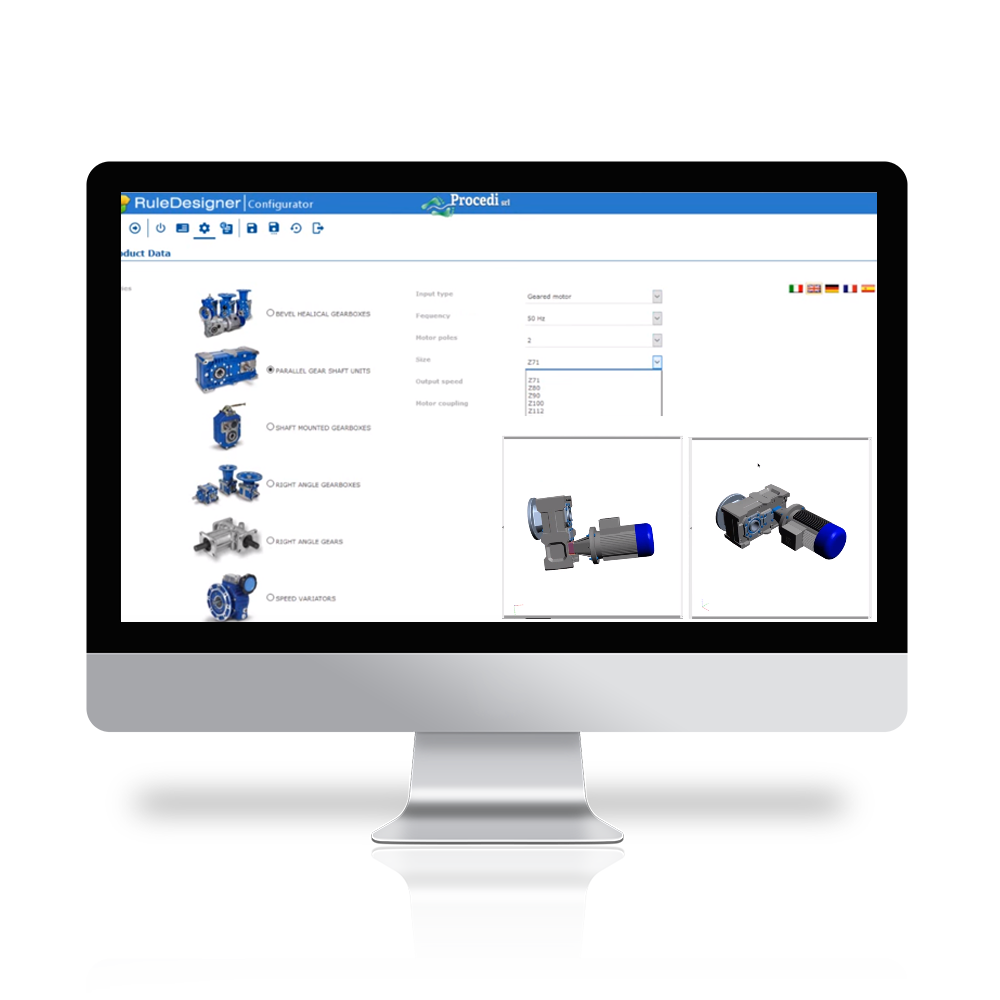 Collaborative product customization
In an interconnected environment, partners and customers are already involved during the first stages of the product concept and design phase, defining different options until the final decision. Said this, the success of a collaborative strategy depends not only on the identification of the correct partners but also on the correct use of tools able to seamlessly process information and to adapt to dynamic business environments.
Robotic process automation
Design engineering and back office-processes can be heavily automated to simulate the operations of a human resource. RuleDesigner technology is able to drive existing applications in order to make employees relieved of routine tasks. The RPA approach allows to drastically reduce activities lead time, costs and errors.
Product Configuration
RuleDesigner full integration with both the most known CAD software and Product Life-cycle Management (PLM) applications, fosters custom product development strategy from the simplest "configure-to order" to the most complex "engineer-to order" approach. RuleDesigner is able to face the most difficult configuration challenges thanks to its functional extension at an enterprise level and to its powerful rule-based engine. Product portfolio's complexity has never been easier.
Automatic BOM Generation
The strong trend towards customization and adaptability makes difficult to manage all product configurations. As the number of configurations can grow significantly, the flexibility of the systems that manage them have to be enhanced as well. Many times, it is needed to create specific BOMs for each costumer order and this makes the PLM processes even more complex. RuleDesigner product configuration processes offer the great advantage to generate the information automatically spanning from design automation (when applicable) to the part-numbering of new components and even the generation, storage and sharing of different BOMs views. Among the most common BOM views, we can mention the manufacturing BOM: generally managed by the department Time & Methods or Process Engineering, the manufacturing BOM hierarchically displays the manufacturing information (cycles/phases) and material used for each item. Finally, the manufacturing BOM includes a structured list of all the processing/assembly operations required to make a manufactured, shippable finished product in order to define its final cost.
Design automation
RuleDesigner supports CAD specialists and project engineers in automating repeating and tasks. In this way, both productivity and product development lead time are dramatically improved. RuleDesigner eliminates manual tasks and possible errors associated with the automatic generation of parametric CAD 3D model, production drawings, bill of materials (BOM), list of the purchase components or offers. RuleDesigner allows to achieve a smart design because it is able to smartly drive the most common 2D and 3D CAD systems to generate geometric models. Your organization can achieve the highest level of scalability in design because the integrated Knowledge-based engineering functions make customers, providers and sales managers independent during the production of large-scale projects without affecting the tasks of designers.
Automatic part-numbering of technical projects
RuleDesigner allows to create several part-numbering schemes such as smart, sequential or hybrid. These functions are particularly important to "Engineer-to-order (ETO)" companies since they require specific software solutions that are design-oriented.
Details
Strategic supplier relationships management
Engaging with suppliers means creating the basis for a strong and continuous partnerships able to enhance collaborative innovation. RuleDesigner offers tools to manage the relationship with providers on the operating level by easily sharing technical information useful in the product development process. Also managing and tracking product and/or project related to discussion threads. In such a way, suppliers become part of the organization's design team and are actively involved in technical issues and in the job order development process.
Request advices and information about RuleDesigner products, prices, implementation or anything else. Our team is here to help you!
Contact us
Call + 39 0544 554949