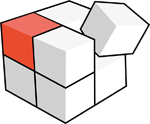 RuleDesigner PDM/PLM
Global Product Data Management
The web-based PDM solution, which enables the use in smart working, integrated with the most popular 2D / 3D CAD design systems and scalable at an enterprise level.
BROCHURE

RULEDESIGNER PDM / PLM
Capabilities
Classification and numbering plans with specific approval workflow
An environment for parametric classification is available and it is provided with tools that drive the user toward the proper entering of attributes with ability to generate compound descriptions and to recognize the belonging to morpho-dimensional technological codes. Multiple code layouts can be defined and specific PDM codes approval workflows can be configured.
Document Management
RuleDesigner provides a modular integrated and cross-functional environment, dedicated to the management of business documents. A wide range of functionalities and high configurability guarantee perfect adhesion to company processes. The document management module supports the processes of creating, updating and archiving files in an organized and integrated corporate repository.
Archiving technical data
The collection and management of data with RuleDesigner, offers a unique and complete vision of CAD project that can be customized, based on best-practice and shared along the organization.
Bom management environment
The accurate bom management is an essential prerequisite for the progress of the workflows along the product lifecyle. RuleDesigner allows to create and manipulate BOMs (Bills of materials) in different formats and views coming from the CAD systems or other external sources. RuleDesigner offers several tools that make the management of BOM information more efficient, allowing you to create different views and automatically export reports in different formats and directly to ERP systems.
Starting from the existing CAD file structure, the bom update take place simultaneously to the development of the CAD model, this eliminates the manual updates needed for the spreadsheet. It allows to have flexibility to use bom data in the most productive and efficient way.
BOM management  with 2D and 3D CAD assemblies functions or with external sources such as ERP, spreadsheets and databases. Comparison functions among different lists and production of different views for each part number. Creation of reports in several formats (xls, html, txt ..) with the possibility of transferring information to external systems.
Integrations and synchronizations with ERP systems
It is possible to synchronize technical data bidirectionally in RuleDesigner with ERP/MRP external systems.
Synchronization with part-numbers, attributes, drawings and BOMs.
Automatic generation of new PDM part numbers coming from ERP requests.
Product Configuration Management
Collaboration and sharing of the company functions
Portal for suppliers
Optimizing the relationship with your providers means working in a partnership, with strong and consolidates relations in a collaborative way.
RuleDesigner is a web portal that allows to manage the relationships with supplier form an operative point of view. It allows to share all the information in a simple way, needed for the realization of products and to activate a close collaboration through the management and traceability of discussion threads on products or projects.
With RuleDesigner the supplier becomes part of the technical team with a direct involvement in technical issues and progress of orders
Global project team management
SCHEDULE A VISIT
Submit your request to schedule a visit with our experts to understand better how RuleDesigner can meet your business needs.
REQUEST
REQUEST CUSTOM DEMO
If you want to understand how RuleDesigner meets your business and industry needs, ask for a custom demonstration.
CONTACT US
SIGN UP TO OUR WEBINAR
RuleDesigner staff will illustrate and show live different application examples of the solutions you are more interested in.
SIGN UP